What Should I Choose As My 5th Subject In NIOS 12th Standard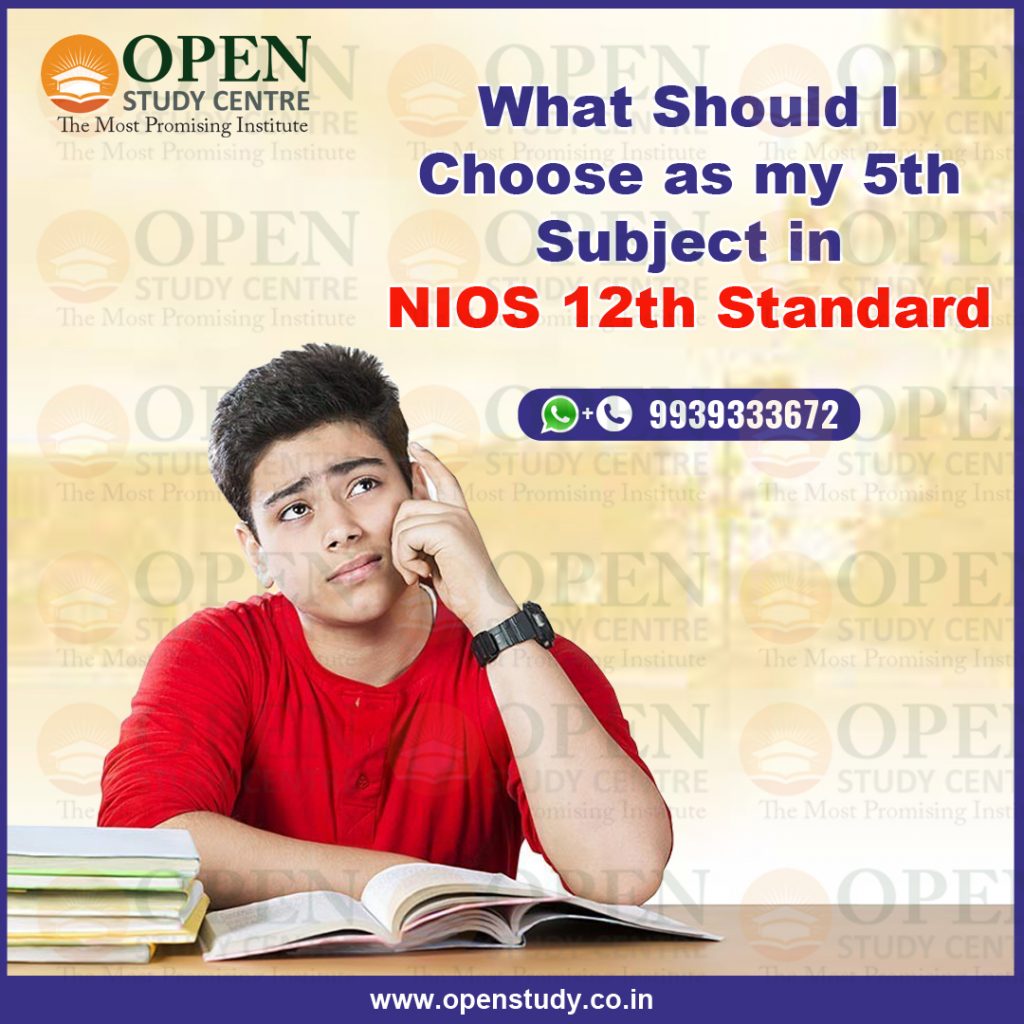 What Should I Choose As My 5th Subject In NIOS 12th Standard
The NIOS class 12 is equal to that of the 12th standard of any other board. You can choose the subject based on your interest. However, you need to clear a minimum of five subjects with at least one language or two languages, which is compulsory for certification.  
NIOS Class 12 Course   
The "NIOS class 12" is designed for those who have cleared their 10th standard from NIOS or any other recognized board and want to continue their education with NIOS. The best thing about NIOS is that you are given many subjects to choose from. However, you need to choose at least five subjects, out of which one or two subjects will be language.  
To choose the 5 NIOS subjects for class 12, you need to be aware of the NIOS class 12 syllabus. Here in this post, we have mentioned the list of subjects for NIOS class 12. 
10th, 12th फेल विद्यार्थी निराश ना हो, अपना साल बचाए।
NIOS / BBOSE के फार्म भरे जा रहे है - 10th, 12th इसी वर्ष अच्छे अंको से पास करे
Subject List for NIOS Class 12  
Here in this section, we have mentioned the NIOS subject for the class 12 examination.   
Group A – Hindi, English, Bangla, Tamil, Odia, Urdu, Gujarati, Sanskrit, and Punjabi.   
Group B – Mathematics, Home Science, Psychology, Geography, Economics, Business Studies, Painting, and Data Entry Operations.   
Group C – Physics, History, Library and Information science, Environmental science.  
Group D – Chemistry, Political science, Mass communication, Military Studies.  
Group E – Biology, Accountancy, Introduction to law, Military History. 
Group F – Computer Science, Sociology, Tourism, Physical education, and yoga. 
Note – You need to opt for only one subject from Group C, D, E, and F. 
NIOS Study Scheme for Class 12  
The NIOS scheme of studies for class 12 is given below.  
To get a NIOS class 12 pass certificate, you need to  
Opt five subjects with at least one language or at most two languages.

Choose a minimum of five subjects and a maximum of seven

NIOS subjects for class 12.

 

Choose two

additional subjects for NIOS class 12. 

Choosing a minimum of one and a maximum of two subjects from Group A is advisable. However, if you are interested, you can choose a third language as your optional subject. 

 
However, the students are advised to choose the subjects as per their interests and future plan, and careers.  
what should i choose as my 5th subject in nios 12th standard,senior secondary course,nios complete subjects list,nios 12th syllabus 2022,nios subject list 12th ,nios subjects for 12th commerce,nios subjects for 12th science,nios commerce
NIOS या कोई अन्य बोर्ड एग्जाम में फेल हुए छात्रों के लिए पास होने का सुनहरा अवसर
Failed Students क्या करें ?
किसी भी मान्यता प्राप्त बोर्ड जैसे (BSEB, CBSE, NIOS) के फेल विद्यार्थी अपने दो विषयो का अंक BBOSE या NIOS बोर्ड में ट्रांसफर (T.O.C) कर कोई भी 3 विषयो का एग्जाम देकर विषयो का एग्जाम देकर 2 महीने में पास करने का मौका प्राप्त कर सकते है।