NIOS On Demand Exam For 12th Failed
NIOS On Demand Exam Class 12th
NIOS on Demand Exam is an examination concept where students can book their dates for their exams depending on their readiness. This exam is conducted by the National Institute of Open Schooling where students can seek admission in any stream of their choice. This exam is conducted throughout the year but not in April, May, October and November due to Public exam.
Students who have failed class 12th from CBSE or any other recognized board are not required to waste their year. NIOS On Demand Exam for Class 12 Fail can help students to prepare within their time frame. Students can find this new education concept quite useful as they can prepare for the exam without any stress.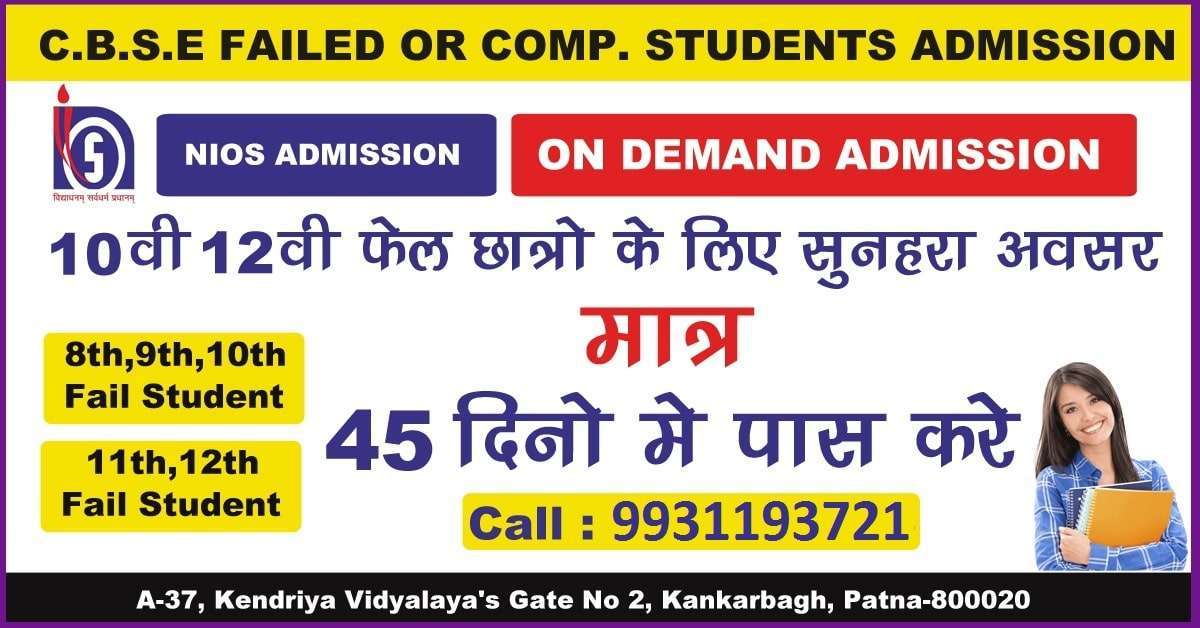 NIOS Admission for Failed Students
फॉर्म भरे जा रहे है – NIOS या कोई अन्य बोर्ड एग्जाम में फेल हुए छात्रों के लिए पास होने का सुनहरा अवसर
Subjects for NIOS On Demand Exam Class 12th
Hindi (301), English (302), Sanskrit (309), Mathematics (311), Physics (312), Chemistry (313), Biology (314), History (315), Geography (316), Political Sc. (317), Economics (318), Business Studies (319), Accountancy (320), Home Science (321), Psychology (328), Sociology (331), Painting (332), Environmental Science (333), Data entry Operations (336) and Introduction to Law (338).
Eligibility Criteria for NIOS On Demand Exam Class 12th
Students must pass the secondary exam from any recognized board to seek admission in seniors secondary.

The minimum age for appearing in NIOS on Demand exam 2020 must be 15 or above.
Fess Structure for NIOS On Demand Exam Class 12th
Students are required to pay Rs.500/- for each subject and additional Rs.200/- if the subject has a practical exam.

If a student is applying for TOC they have to pay Rs.180/- for each subject.

In case if a student is willing to change their subject from the parent board they have to pay Rs. 720/- for each subject. (Maximum of 2 subjects can be changed)

50/- is to be paid by all for online application.
Fees can be paid through credit cards, debit card and even Net banking.
FAILED in 9th or 11th?
Open Study Centre helps you save a year, and gets you direct admission in 10th & 12th through NIOS
Documents Required for NIOS On Demand Exam Class 12th
Proof of residence (Aadhar card, passport)

4 passport size color photos

Valid identity proof (Aadhar Card or Passport or Ration card)

Failed mark sheet of class 12th

Original Admit card if failed in all subject

Caste certificate
Failed Students क्या करें ?
किसी भी मान्यता प्राप्त बोर्ड जैसे (BSEB, CBSE, NIOS) के फेल विद्यार्थी अपने दो विषयो का अंक BBOSE या NIOS बोर्ड में ट्रांसफर (T.O.C) कर कोई भी 3 विषयो का एग्जाम देकर विषयो का एग्जाम देकर 2 महीने में पास करने का मौका प्राप्त कर सकते है।
Procedure to Register for NIOS On Demand Exam Class 12th
Students who have failed in class 12th in 1 or all subjects can apply for NIOS on demand exam. The online procedure for registering with NIOS on Demand exam 2022 is as follows:
Register for NIOS on demand exam on their official site https://nios.ac.in/

Online validation is done through OTP on mobile and email.

Students need to enter all the details that are asked in form.

It also needs to upload documents which are important for taking admission.

Subjects which you have studied or appeared on board exam.

Students are free to select subjects from the list of options.

Students must select exam center according to their preference.

Date wise availability must be checked for the selected exam center.

Make fees payment depending on the number of subjects you have selected.

Select exam date from the calendar and seats will also be allocated based on availability.

If you are unable to get the desired date, please select dates for next month.
How to Get Admit Card for NIOS On Demand Exam Class 12th?
Once students have registered themselves with the NIOS in Demand exam they have login credentials with them.

So, login with those credentials in the official site and wait until you get admission confirmation.

On successful confirmation, you can download hall ticket and identity card. But for practical exams, you must consult the exam center.
Want to Discuss about NIOS Admission?
10th, 12th में फेल / कम अंक वाले छात्र 60 दिन में अच्छे अंक से पास करे।
How to Get Results for NIOS On Demand Exam 2022?
Results are declared on the official site of NIOS.  Students must check for results in last week of month if given exam in the preceded month.
Why Students Will Find Out Open Study Centre Helpful?
It is not easy for students to prepare for the exam all alone and so we are here to help them. Our experience and professional teachers can prepare students for the exam and pass it. Students can get proper guidance which would make it easy to appear for on Demand Exam.
We have a friendly environment so students can clear their doubts without fear. The teaching methods of our teachers also vary depending on the capability of students. We also offer study notes that can help students to prepare according to it.  To get good marks in the exam we make students solve previous question papers, sample paper and mock tests.
Frequently Asked Questions Related to NIOS on Demand Exam for 12th Failed
NIOS या कोई अन्य बोर्ड एग्जाम में फेल हुए छात्रों के लिए पास होने का सुनहरा अवसर
NIOS 10th Sample Paper 2021
NIOS 12th Sample Paper 2021
10th, 12th फेल विद्यार्थी निराश ना हो, अपना साल बचाए।
NIOS के फार्म भरे जा रहे है - 10th, 12th इसी वर्ष अच्छे अंको से पास करे