BBOSE 12th Admission 2023
BBOSE 12th Admission 2023 - (Bihar Board Of Open School And Examination)
BBOSE Admission 2023 for Class 12 – If you are a resident of Bihar, you live in Bihar. If your number does not come good in the 12th board, you have a chance to improve your number. Now you will ask what opportunity. So the answer is BBOSE. BBOSE is a medium under which you can give the 12th Board paper just like the Bihar board. If you work hard, your good numbers will come. You don't need to go anywhere else. BBOSE was established 9 years ago i.e. 2011. Since then, the institution conducts examinations every year. A large number of candidates are involved in it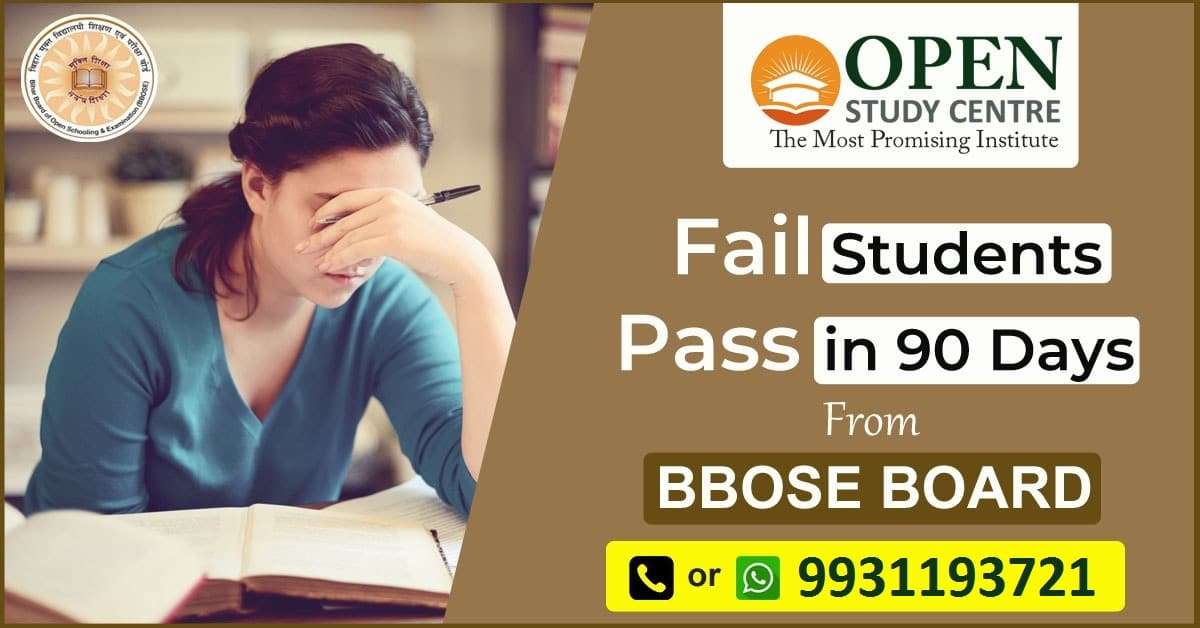 BBOSE Admission 2023 for Failed Students
फॉर्म भरे जा रहे है – NIOS या कोई अन्य बोर्ड एग्जाम में फेल हुए छात्रों के लिए पास होने का सुनहरा अवसर
Eligibility for Class 12th BBOSE Admission 2023
If you are going to sit in the 12th test through BBOSE, you have to keep in mind that you are not less than 15 years of age.

If you are under 15, you will not be able to participate in this test.
How to Apply for Class 12th BBOSE Admission 2023
1. Online Application Procedure for BBOSE Admission-
To appear in this exam first you have to register yourself with BBOSE.

For this, you should have an e-mail id and password.

If you are coming the first time then you will have to create a password for the system for which you click the button Click Here for New Registration.

Clicking this will appear the registration page where you enter your existing, email-id.

Then you enter a password which can be Minimum eight characters at least one uppercase, one lowercase, one number, and one special character.

After that, you again come to the login page where now you will enter the same e-mail id and password which you enter in the register page.

Now fill the application form with your personal details.

Now you can pay the application fee. For payment, The Options are debit card, credit card, and net banking. Demand Draft (DD) is another Option for yourself.

After submitting the details, you get a print copy of the application form. After it, you send it with required documents and your 2 photos.
2. Offline Application Procedure for BBOSE admission–
You also have an offline option for BBOSE admission, for this, you need to visit BBOSE official site and click on the 'admission' tab. Now you have to select Offline admission form.

After it, you will be redirected to the link to the application form. Click on the link and download the form.

Now fill the application form Very carefully.

Finally, you have to enclose the form with required documents along with Demand Draft (DD).

One Bank Draft of amount Rs. 4,000/- and another Bank Draft of Rs. 1000/- both drawn in favor of CEO Of BBOSE The Demand draft with the form is sent to the following address:
Bihar Board of Open Schooling and Examination (BBOSE)
Chanakya National Law University Campus, Nyay Nagar, Mithapur, Patna-800001
Documents Required for BBOSE Admission
Valid Proof of Identity like Aadhar Card. You have a Requirement of Photocopy of Aadhar Card.

Caste Certificate is also required for getting admission in BBOSE

Original Failed Marksheet of class 10th/ class12th is also required for admission in BBOSE.

4 passport size photographs(coloured). The photographs are of recent Time.
FAILED in 9th or 11th?
Open Study Centre helps you save a year, and gets you direct admission in 10th & 12th through NIOS
Choice of Medium of Instructions
Medium for Examination: The examination question papers will be bilingual. That is, in Hindi and English. These rules will be applicable to senior secondary. A student who chooses a language will receive the question paper of the same language and will also have to answer the questions in the same language.
Failed Students क्या करें ?
किसी भी मान्यता प्राप्त बोर्ड जैसे (BSEB, CBSE, NIOS) के फेल विद्यार्थी अपने दो विषयो का अंक BBOSE या NIOS बोर्ड में ट्रांसफर (T.O.C) कर कोई भी 3 विषयो का एग्जाम देकर विषयो का एग्जाम देकर 2 महीने में पास करने का मौका प्राप्त कर सकते है।
Subjects Offered By BBOSE for Class 12th
Hindi (301), English (302), Maths (310), Urdu (304), Bhojpuri (305), Bangla (307), Maghi (309), Physics (311), Biology (313), Geography (315), Economics (317), Accountancy (319), Psychology (321), Sociology (323), Music(327), Sanskrit (303), Maithili (306), Arabic (308), Chemistry (312), History (314), Political Science (316), Business Study (318), Home Science (320), Computer Education (322), Painting (326), Yoga & Physical Education (328)
Fee Structure for Class 12th Admission BBOSE 2023
Want to Discuss about BBOSE Admission?
10th, 12th में फेल / कम अंक वाले छात्र 60 दिन में अच्छे अंक से पास करे।
How to Check BBOSE Admit Card?
Bihar Board of open school and examination will release the 12th BBOSE hall ticket through its website. BBOSE exam admit card 2023 will be released separately for theory and practical exams. Students will be able to access the admit card of BBOSE on bbose.org
How to Check BBOSE Result?
Visit the official website of the BBOSE that is bbose.org. Then Find the link stating BBOSE 12th result. Then click on the desired link. After that enter the credentials. Then click on the Submit button. The BBOSE Result will appear on your screen.
BBOSE Model Question Papers and e-books for 12th
| | | | |
| --- | --- | --- | --- |
| कोड/Code-301 हिंदी/Hindi | Question | कोड/Code-302 अंग्रेजी/English | Question |
| कोड/Code-303 संस्कृत/Sanskrit | Question | कोड/Code-304 उर्दू/Urdu | Question |
| कोड/Code-305 भोजपुरी/Bhojpuri | Question | कोड/Code-306 मैथिलि/Maithali | Question |
| कोड/Code-307 बांगला/Bangla | Question | कोड/Code-308 अरबी/Arabic | Question |
| कोड/Code-309 मगही/Maghi | Question | कोड/Code-310 गणित/Mathematics | Question |
| कोड/Code-311 भौतिक विज्ञान/Physics | Question | कोड/Code-312 रसायन विज्ञान/Chemistry | Question |
| कोड/Code-313 जीव विज्ञान/Biology | Question | कोड/Code-314 इतिहास/History | Question |
| कोड/Code-315 भूगोल/Geography | Question | कोड/Code-316 राजनीती विज्ञान/Political Science | Question |
| कोड/Code-317 अर्थशास्त्र/Economics | Question | कोड/Code-318 व्यवसाय अध्ययन/Business Study | Question |
| कोड/Code-319 लेखाशास्त्र/Accountancy | Question | कोड/Code-320 गृह विज्ञान/Home Science | Question |
| कोड/Code-321 मनो विज्ञान/Pshycology | Question | कोड/Code-322 कंप्यूटर/Computer | Question |
| कोड/Code-323 समाज शास्त्र/Sociology | Question | कोड/Code-324 शिक्षा/Education | Question |
| कोड/Code-325 दर्शन शास्त्र/Phillosophy | Question | कोड/Code-326 चित्रकला/Painting | Question |
| कोड/Code-327 संगीत/Music | Question | कोड/Code-328 योग एवं शारीरिक शिक्षा/Yoga and Physical Education | Question |
Frequently Asked Questions Related to BBOSE Admission 2023
NIOS या कोई अन्य बोर्ड एग्जाम में फेल हुए छात्रों के लिए पास होने का सुनहरा अवसर
BBOSE Admission Details 2023
BBOSE Admission Form 2023
BBOSE Class 10th Sample Papers 2023
BBOSE Class 12th Sample Papers 2023
10th, 12th फेल विद्यार्थी निराश ना हो, अपना साल बचाए।
BBOSE के फार्म भरे जा रहे है - 10th, 12th इसी वर्ष अच्छे अंको से पास करे