How To Get Online NIOS Admission In 2022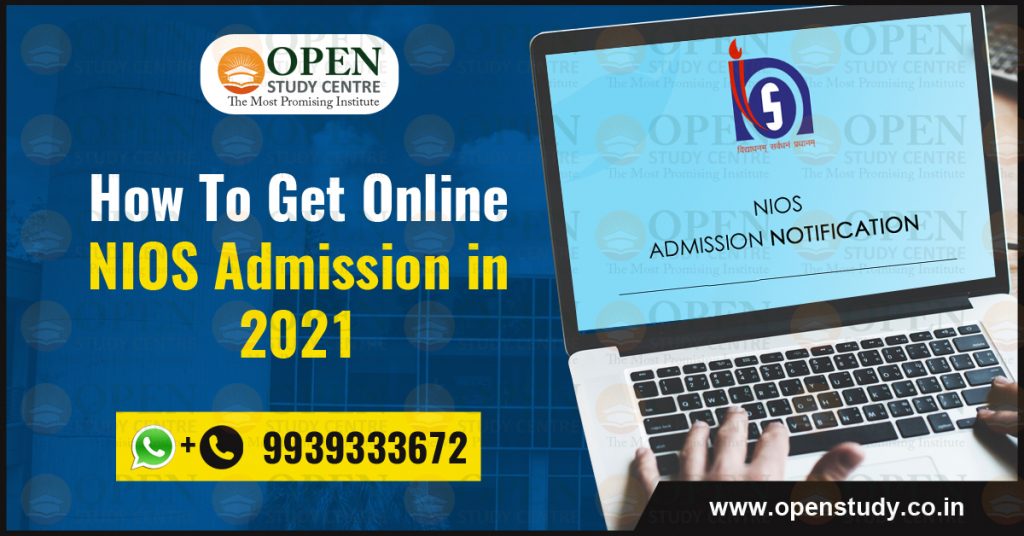 How To Get Online NIOS Admission In 2022
National Institute of Open Schooling or NIOS Admission 2022-2023 for class 10th and 12th has started. The last day for registration for NIOS class 10th and 12th admission is July 31, 2022, without any late fees, and is open till September 15, 2022 (with late fees).  
You need to fill the application before the deadline mentioned above. NIOS has two streams for which students can apply online. Here in this post, we have mentioned everything you need to know about the NIOS admissions 2022-2023.  
NIOS Admission Eligibility Criteria  
Students who want to apply for NIOS need to meet the NIOS eligibility criteria specified by the board. Here we have mentioned the eligibility criteria for NIOS Class 10 and 12 Stream 1 and Stream 2.  
What is NIOS Stream 1?   
The NIOS Stream 1 board conducts exams for the students who appear for their class 10 or class 12 examination for the first time.  
What is NIOS Stream 2?   
The NIOS stream 2 examinations are for those who could not clear their class 10th or 12th from CBSE/ICSE or other recognized boards.   
NIOS Eligibility Criteria for Stream 1- Class 10 and Class 12  
The eligibility criteria for NIOS admissions in 10th and NIOS admission for 12th for stream 1 candidates are listed below-  
Eligibility Criteria for NIOS Secondary Admission Stream 1 
The candidate should have cleared class 8.

The minimum age of the students should be 14 years.

 
Eligibility Criteria for NIOS Class 12 Stream 1 
The minimum age to get

admission for NIOS 12th standard

is 15 years. 

The students should have cleared

Class 10 from NIOS

or any other recognized board of education.

 
Eligibility Criteria for NIOS Class 10th and 12th Stream 2   
Students who are not eligible for Stream 1 can take admission in NIOS stream 2. The interested students must be above 14 years of age for NIOS 10th admission and above 15 years of age to apply for NIOS 12th admissions.
10th, 12th फेल विद्यार्थी निराश ना हो, अपना साल बचाए।
NIOS / BBOSE के फार्म भरे जा रहे है - 10th, 12th इसी वर्ष अच्छे अंको से पास करे
NIOS Online Admission Procedure  
Here in this section, we have mentioned the NIOS online admission procedure and how to fill the NIOS online admission form. So let us get started.   
Step 1 – Go to the NIOS official website, click on "Register," and follow the procedure given on the screen.   
Enter your basic details, including your name, father and mother name, date of birth, gender, aadhaar card number, mobile number, email ID, and the course you want to opt for.   
Once you have filled in your details, you need to enter an OTP sent to your registered mobile number and email address.   
Once you have filled in all the details on the screen, tick on the declaration and go ahead.   
Step 2 – Once you have filled in your basic details, fill in your optional details like nationality, religion, annual family income, and more. 
Step 3 – Choose the subjects you want to apply for. 
Step 4 – Select the nearest study center. You need to select three study centers according to your preferences.
Step 5 – Upload the documents required for NIOS admission. You need a signature document, ID proof, previous qualification certificate, address proof, and a caste certificate. 
Note – These files need to be in the JPEG/JPG/PNG/GIF format. The file size should not exceed 1MB. 
Step 6 – Review all the details before submitting the NIOS online admission form. 
Step 7 – Pay the NIOS admission fees by your preferred mode of payment and click on register. 
Step 8 – Once you have made the payment, you will be directed to an acknowledgment page. 
Tip – Take a printout of your NIOS application form for your future reference.  
NIOS Admission Confirmation  
The officials will notify the confirmation of the NIOS admission 2022-2023 by issuing an official ID card for the NIOS registered course along with a confirmation letter.
how to get online nios admission in 2022,online nios admission in 2022,online nios admission ,nios admission online,nios admission online procedure,how can i apply for nios 2022,how can i apply for nios online,nios registration 2022,nios registration online,nios admission form online,nios online admission,nios admission 2022-23 last date 
NIOS या कोई अन्य बोर्ड एग्जाम में फेल हुए छात्रों के लिए पास होने का सुनहरा अवसर
Failed Students क्या करें ?
किसी भी मान्यता प्राप्त बोर्ड जैसे (BSEB, CBSE, NIOS) के फेल विद्यार्थी अपने दो विषयो का अंक BBOSE या NIOS बोर्ड में ट्रांसफर (T.O.C) कर कोई भी 3 विषयो का एग्जाम देकर विषयो का एग्जाम देकर 2 महीने में पास करने का मौका प्राप्त कर सकते है।