Tips To Select The Best BBOSE Coaching Institute In Bihar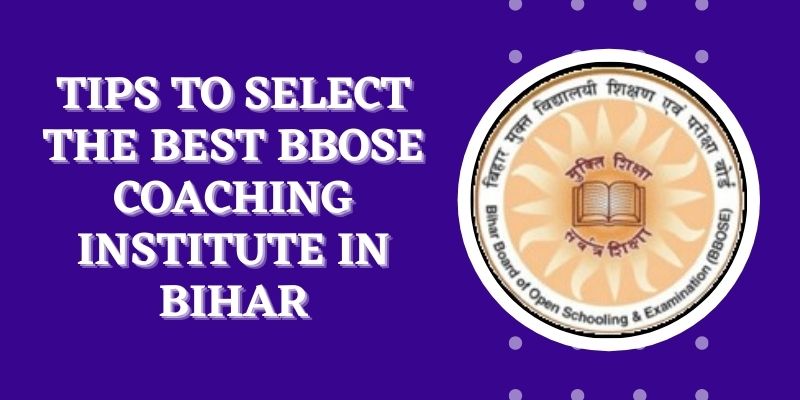 How to Pass BBOSE Exam in 2021
Are you looking to get good marks in your upcoming BBOSE exams? Relax, you are in the right place. We'll help explore the necessary tips to help you find the best BBOSE coaching institute in Patna (Bihar).
Whether you failed your school exams or irritated with regular classes, BBOSE can be a great career choice for you. All you need is a top-notch BBOSE study centre in Patna to clear your school-level board exams and find the best career choice for yourself.
Here are the top questions that you should keep in mind before choosing the best coaching centre for your BBOSE exams 2021.
Past Track Record & Students Feedback Is Important
Look for a detailed student's feedback online about the coaching you are going to join. Make sure your coaching has a proven track record of good student results in BBOSE exams.
An old coaching centre possibly has a good mix of easy-to-guide teachers. Plus, you may also ask about the quality of study materials, regular test series to increase your score, and a helpful set of teachers to support you.
The Open Study Centre is the best study center of BBOSE exams preparation and BBOSE admission queries.
Your Coaching Fees Matters The Most
For sure you need a BBOSE coaching centre in Patna that banks high on quality and low on fees. Is that even possible? Yes, it is.
Come to us and we'll give you the best coaching fees options for your BBOSE preparation.
Is It The Right Career Choice For You?
Don't trust us? Visit the coaching centre for yourself. Make sure that you don't find overcrowded classes there.
Always join the class which has less number of students in one batch. That's just so good for your exam preparation.
The last tip!
Check if they have good sanitation facilities. 
Enjoy the Open study AC rooms that are so comfortable to sit for long. But, it's optional and you have the right to choose what suits you the best as per your fees.
If You Will Get Study Materials and Access to the Reading Room(Library)?
Don't you want a quiet room filled with books? Open study centre has a peaceful atmosphere of exotic rooms filled with smart boys and holy girls.
Get a full range of BBOSE study materials for your exams preparation and prepare the very best for your upcoming BBOSE exams.
Student's Performance Is A Must
Make sure to check if the past student performance of the coaching is good and have success stories. 
You can even book a free demo session at Open Study Centre and check out their teaching services yourself.
 Distance From Your Home To The Coaching centre
Before picking up the best BBOSE coaching centre In Patna for yourself, you should find out how far it is.
10th, 12th फेल विद्यार्थी निराश ना हो, अपना साल बचाए।
NIOS / BBOSE के फार्म भरे जा रहे है - 10th, 12th इसी वर्ष अच्छे अंको से पास करे
That makes sense…
The Open Study Centre is located at a prime location in Patna. Here is its Address:
A-37, Kendriya Vidyalaya, Gate No. 2 Kankarbagh – Patna.
To reach Kankarbagh is easy from far off locations from Patna. The city has a robust mode of transportation with buses, autos and rickshaws (manual & Electric) making it a great choice for students 
Come visit us today and let's discuss together the future of your career.
The Last Month Admission
Grab the opportunity to join the Open Study Centre for Last Month serious admissions. Many students have limited time and they want to join the coaching classes just before the 2021 BBOSE exams.
Just prepare for a month and boost your exam score this year with the Open study BBOSE admission centre in Patna.
Open Study Centre also offers career consultancy services. Get it today and make the right choice for you.
NIOS या कोई अन्य बोर्ड एग्जाम में फेल हुए छात्रों के लिए पास होने का सुनहरा अवसर
Failed Students क्या करें ?
किसी भी मान्यता प्राप्त बोर्ड जैसे (BSEB, CBSE, NIOS) के फेल विद्यार्थी अपने दो विषयो का अंक BBOSE या NIOS बोर्ड में ट्रांसफर (T.O.C) कर कोई भी 3 विषयो का एग्जाम देकर विषयो का एग्जाम देकर 2 महीने में पास करने का मौका प्राप्त कर सकते है।