How to Pass NIOS on Demand Exam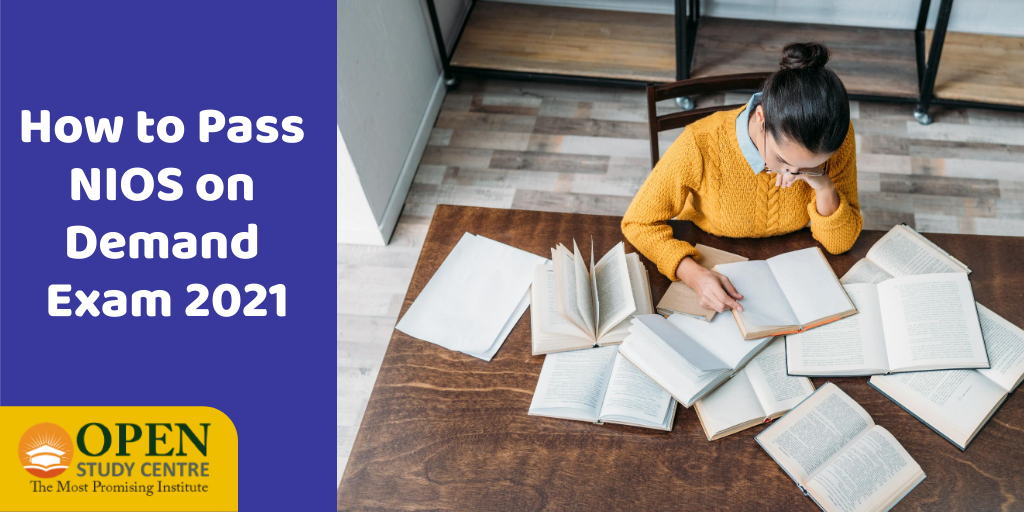 How to Pass NIOS on Demand Exam in 2021
National Institute of Open Schooling (NIOS) is the education board under the government of India. It is an Open Schooling medium that helps many other students to get their education completed even after not going to school. This institute gives you a chance to appear for an on-demand examination every year. In this blog post, we will be telling how to pass the NIOS on-demand exam. We are a best NIOS coaching center and will be providing you all the information which is needed to score good marks and get cleared in the subjects which you are appearing for.
What is an on-demand exam in NIOS?
The NIOS on-demand exam 2021 is the NIOS Examination system, where the student chooses the exam date as per his/her wish. They can do this as per whenever they are ready for the exams. The dates for these exams can be found online or else you can visit the NIOS admission consultant in Patna. NIOS On Demand Examination (ODE) is for those who have been unable to clear the board examination, such as CBSE or any other recognized state board or those who are qualified for the test but have been unable to appear for the main exam due to some urgent reasons.
Why Opt for NIOS On-demand Examination?
The ODE examination is a very flexible option for the students who wish to clear their board examination. Here are a few reasons why one can choose the NIOS on-demand exam:

Go for the exam on the chosen date
The result comes after 45 days of the exam.
You can appear for the subject you have failed

Transfer of the 100% credit of the subject which you have passed.
How to plan for a NIOS On-Demand Exam?
It's the most significant thing in the students' minds. Preparing for the On-Demand isn't a cause to worry; here you'll get to know a few points after which you can clear NIOS On Demand Exam-

Previous year's question paper of NIOS

The most significant thing that you are going to take reference from is the previous year's NIOS exam paper. You can download and search for the most appropriate NIOS Previous Question Papers, and plan accordingly.

E-books/Text Books for NIOS

Usually, NIOS will provide you with the textbook material via courier, but in the scenario of ODE when you may have picked the closest date for the exam and are not able to get the books. Then, you can access these e-books online and start studying.

Help or Guide Books

You will find many help books that are available in the Q&A format with sample articles that are useful for preparing NIOS exams 2021. One can surely read these guides and help books to prep up for the on-demand exams in a short time. Such NIOS help books or guides may also be purchased online from various online booksellers. Before ordering you need to ask for the delivery date as your exam may be scheduled for before the delivery date.
10th, 12th फेल विद्यार्थी निराश ना हो, अपना साल बचाए।
NIOS / BBOSE के फार्म भरे जा रहे है - 10th, 12th इसी वर्ष अच्छे अंको से पास करे
How can I download NIOS 2021 admit card?
You can visit the official website of NIOS and click on the admit link 2021. Then, you can select the type of hall ticket and put the enrollment number. Next, click on the 'Submit' button and then download the admit card.
How to calculate the NIOS mark percentage?
The cumulative mark that you received is divided by the number of subjects that you had appeared. For example, if you would have scored 400 in five subjects, then your total percentage would be 80%.
What documents required for NIOS admission 2021?
Latest passport size photograph
ID proof such as Aadhar card or ration card
DOB valid proof such as birth certificate
Reserved category certificate
8th class certification for 10th admission and 10th class certificate for 12th admission
Residence proof such as Adhaar card, electricity bill, passport, current back account statement.
NIOS या कोई अन्य बोर्ड एग्जाम में फेल हुए छात्रों के लिए पास होने का सुनहरा अवसर
Failed Students क्या करें ?
किसी भी मान्यता प्राप्त बोर्ड जैसे (BSEB, CBSE, NIOS) के फेल विद्यार्थी अपने दो विषयो का अंक BBOSE या NIOS बोर्ड में ट्रांसफर (T.O.C) कर कोई भी 3 विषयो का एग्जाम देकर विषयो का एग्जाम देकर 2 महीने में पास करने का मौका प्राप्त कर सकते है।