BBOSE Study Center of Ranchi 2022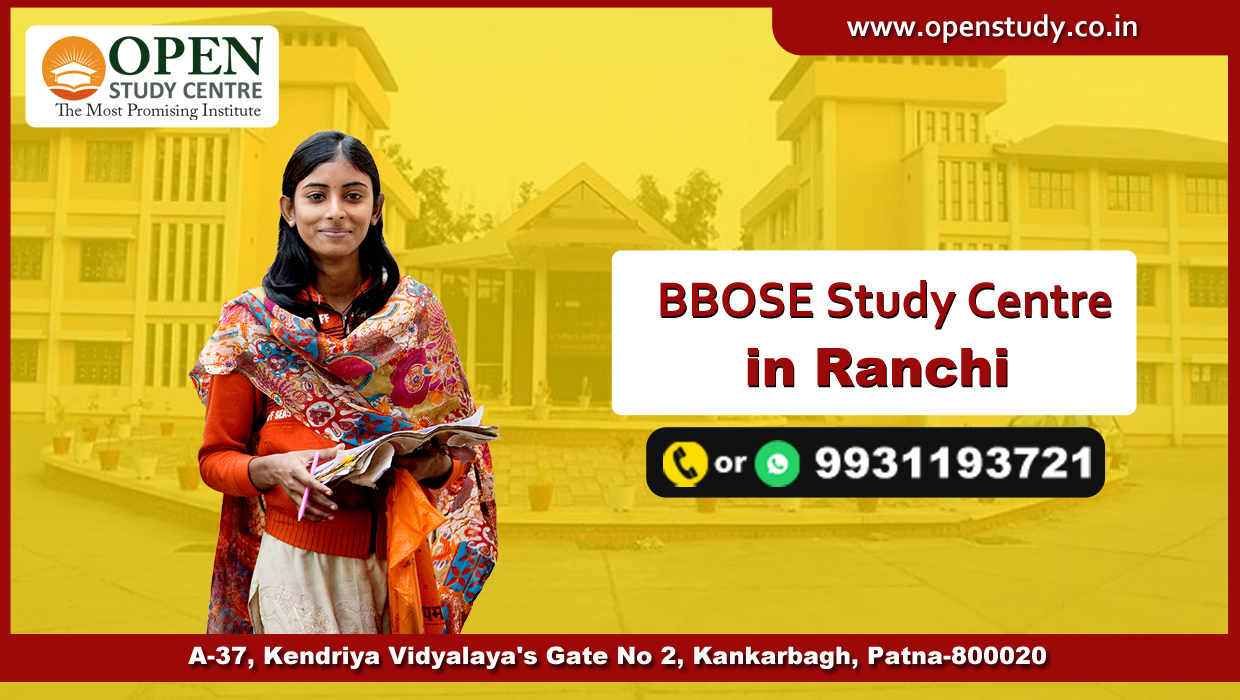 BBOSE Study Center of Ranchi
In February 2011 the Bihar Board of Open Schooling and Examination (BBOSE) was founded with a motive of providing the best education to the students. If you also wish to have a good score in class 10th and 12th, then the BBOSE coaching institute in Ranchi is here to help you out. You can always take help from these coaching institutes because they are well aware of the BBOSE admission in 2022. Scoring good marks can give you a great opportunity to appear in many other government entrance exams. This government-affiliated course is there for you to help you in excelling in both academics and careers.  So, get ready for the BBOSE exams and ensure that you do well in your career ahead. 
BBOSE Admission for Failed Students
फॉर्म भरे जा रहे है – NIOS या कोई अन्य बोर्ड एग्जाम में फेल हुए छात्रों के लिए पास होने का सुनहरा अवसर
Documents Required for BBOSE Admission in Ranchi
Mark sheet of 9

th

class for admission in class 10

th

Mark sheet of 10

th

and 11

th

for admission in class 12

th

 

Original and valid ID proof like Aadhar card and also photocopy is needed

Passport size colored photos – 4

Category certificate if needed
How to Apply for BBOSE Admission in Ranchi
1. Online Application for BBOSE Admission in 2022
The first thing you need to do is to register yourself at the official website for the BBOSE

Admission in Ranchi. For registration, you already need to have an email ID and password.

As a beginner, you need to make an account of your by clicking on 'Click here for registration'.  Once you click here, then you will be taken to a page on which you will be entering your email ID.

Here you need to create a password for your email, by following the password creation guidelines. Once completed, you will be taken to the login page on which you will be putting your login credentials for logging in.

This will then open the application form fill it and make the payment. The payment methods you can choose are debit cards, credit cards, DD, and net banking.

Submit the form; take a print out of it. Finally, send the form along with documents and two photos via courier.
2. Offline Application for BBOSE Admission 
Visit the official page of BBOSE and download the application form by clicking on the 'Admission' button and then 'Offline Admission Form'.

Now fill the form and attach the required documents along with the DD with the form. One draft should be of Rs. 4000/- and the other one has to be of Rs. 1000/-. Both the Demand Draft has to be made on the name of the CEO of the Bihar Board of Open Schooling and Examination.

Courier these documents to the below address:
Bihar Board of Open Schooling and Examination (BBOSE)
Chanakya National Law University Campus, Nyay Nagar, Mithapur, Patna-800001
Eligibility Criteria for BBOSE Admission in Ranchi
The candidate who wants to get

admission in Bihar open school

must have completed their previous studies from a renowned board. This will make it easier for you to move further with the exams.

In addition to this, the students who are applying for the

open school admission 2022 in Ranchi

needs to pass their 9

th

with passing scores and then can only get admission in class 10

th

.

For the

open school in Ranchi for admission in class 10

th

, the age of the students should be at least 14 years and for

class 12

th

admission in open school, the age should be minimum of 15 years.
Apart from this, for Bihar open school admission in Ranchi

,

the students need to score a minimum 50% for the admission. On the other hand, the reserved category students can enter with a minimum of 45% score for BBOSE admission in Ranchi.

Along with all this, you also have to provide the original and valid medical fitness certificate.
If in case, you have any doubt then you can get in touch with the BBOSE admission consultancy in Ranchi for more information.
FAILED in 9th or 11th?
Open Study Centre helps you save a year, and gets you direct admission in 10th & 12th through NIOS
List of Subjects in the BBOSE Examination
Open Admission Subject for Class 12th
English (302), Hindi (301), Maths (310), Bhojpuri (305), Urdu (304), Bangla (307), Physics (311), Maghi (309), Geography (315), Biology (313), Accountancy (319), Economics (317), Sociology (323), Psychology (321), Music(327), Maithili (306), Sanskrit (303), Arabic (308), History (314), Chemistry (312), Business Study (318), Political Science (316), Computer Education (322), Home Science (320), Painting (326), Yoga & Physical Education (328)
Open Admission Subject for Class 10th
English (202), Hindi (201), Science (216), Mathematics (215), Bhojpuri (205), Social Science (217), Urdu (203), Persian (209), Bangla (207), Yoga & Physical Education (218), Indian Heritage &Culture (222), Home Science (220), Sanskrit (204), Arabic (208), Maithili (206), Basic Computer (221), Painting (223), Business Study (219)
Failed Students क्या करें ?
किसी भी मान्यता प्राप्त बोर्ड जैसे (BSEB, CBSE, NIOS) के फेल विद्यार्थी अपने दो विषयो का अंक BBOSE या NIOS बोर्ड में ट्रांसफर (T.O.C) कर कोई भी 3 विषयो का एग्जाम देकर विषयो का एग्जाम देकर 2 महीने में पास करने का मौका प्राप्त कर सकते है।
To get the exam schedule you can visit the official website of the BBOSE. There you will find the schedule for the examination. 

The appearing candidates can download the schedule from the website and it will also be provided by your school or by

admission consultants in Ranchi for BBOSE.

As per the schedule, the exams are held in two different shifts, one of which is 10:00 AM to 01:00 PM and the second is 02:00 PM to 05:00 PM.

The applicants can visit this website for checking the routine for the senior secondary exam also.

The schedule for practical and theory exams for class 12

th is

also released on the website.
The admit card is issued on BBOSE's official web site. They issue it individually for both the practical and theory tests. If you have entered a BBOSE admission center in Ranchi, you'll be told of the admission card release date.
Want to Discuss about BBOSE Admission?
10th, 12th में फेल / कम अंक वाले छात्र 60 दिन में अच्छे अंक से पास करे।
The results are out in June and December according to the BBOSE. The students who are sitting in these exams can obtain their results in the manner given below:
To get the result, you need to visit the website of BBOSE and click on 'Student Support'.

Then you have to click the 'Result' button which will then open a new window.

For more information, you can click on the enrollment number or roll number of your examination.

Next, you will need to click 'Submit' and then end up with your results on the screen with an option to download it.
Frequently Asked Questions Related to BBOSE Admission 2022
A: Yes, the applicants who have appeared for the class 12th examination from BBOSE and have passed with good marks can appear for the CLAT exam. The Common Law Admission Test (CLAT) is the test for the law aspirants. The interested students need to score a minimum of 50% in average (45% for reserved).
A: The Bihar Board of Open Schooling and Examination (BBOSE) was founded in the year 2011. It is an autonomous body of the education department of the Government of Bihar. This education organization began as a registered society that was started under the society's act.
A: No, students cannot take direct admission in Class 12th as they first are to be checked if they are eligible for BBOSE admission or not. For this, they first need to submit a document of their previous institute to show whether it was recognized or not. Also, they need to have a minimum score of 50% for general and 45% for the reserved category.
We at Open Study Centre in Ranchi are here at your service to help you get admission in the BBOSE for 10th and 12th standard. You can rely on us because we have the team of best faculty who ensures to help you in the best way possible so that you have no hurdles in your way to a good education.
Can help students on an individual basis and make sure that all their doubts are cleared

Have hired highly cooperative and educated staff 

Always ready to help students with their doubts and queries related to subjects or exams

Available 24X7 at your service
NIOS या कोई अन्य बोर्ड एग्जाम में फेल हुए छात्रों के लिए पास होने का सुनहरा अवसर
BBOSE Admission Details 2021
BBOSE Admission Form 2021
BBOSE Class 10th Sample Papers 2021
BBOSE Class 12th Sample Papers 2021
10th, 12th फेल विद्यार्थी निराश ना हो, अपना साल बचाए।
BBOSE के फार्म भरे जा रहे है - 10th, 12th इसी वर्ष अच्छे अंको से पास करे