What to do after fail in CBSE class 12th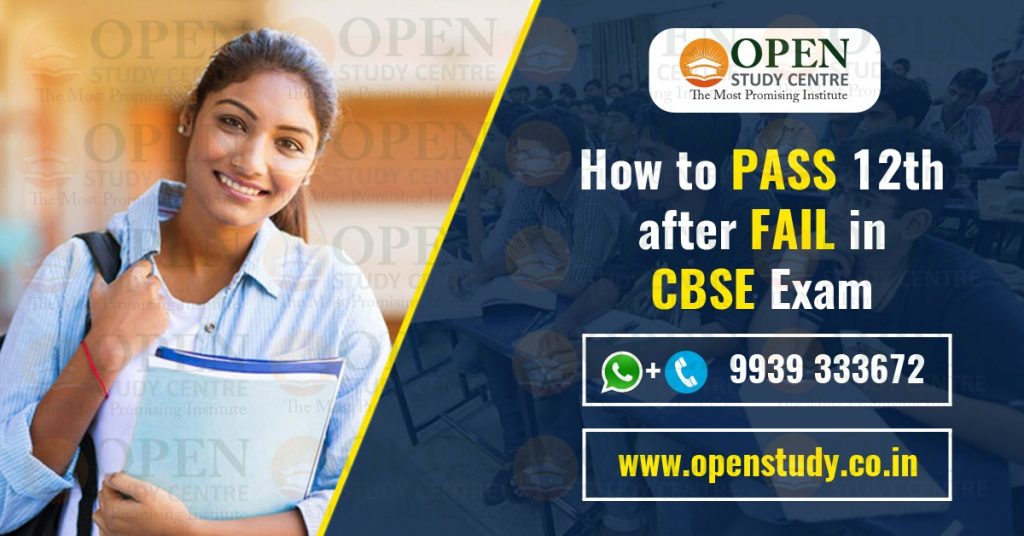 What to do after fail in CBSE class 12th
Everyone has been extremely tensed about getting their Central Board of Secondary Education (CBSE) board results this year. This is the case pretty much every year it with the onset of the pandemic, the results are becoming a horror for all the students.
Every year more than 11 lakhs students give the CBSE 12th board exam and around 10 lakhs students clear these exams without hiccups. But the more unfortunate 1 lakh students are unable to pass the exam which results in them getting sad and worried about their entire future.
Just like the 10th standard, the 12th standard is also a milestone in every child's life which he or she passes for a better outcome ahead. Even though it is a milestone, it is not necessary to be reached and crossed to get to the other side!
The biggest worry 12th standard students have is what if they failed in the 12th board exam 2021? But what students do not realise is that this is not the end of the world! There are a lot of things more important than passing the 12th standard board exam, moreover, there are a lot of options for 12th failed students available which will help them move forward in life.  The candidates who failed in the higher secondary examination need not to worry as admission for 12th fail facility is offered by NIOS.
If a student fails, there is a high chance that their morale will be low and they might start doubting their capabilities. But they should understand that passing the 12th board exam might be important for moving on a career path of their choice, but there are alternatives for everything in the world, like they can take NIOS online admission.
Everyone deserves a second chance and NIOS admission 2021-22 offers exactly that. Some students fail consecutively for years and still give the exam in the hope of passing them. They can give
NIOS on demand exam 2021.
And if you are wondering that you will have a gap year in between which will further affect your opportunities in the future, do not worry and take NIOS fail student admission in the year 2021.
10th, 12th फेल विद्यार्थी निराश ना हो, अपना साल बचाए।
NIOS / BBOSE के फार्म भरे जा रहे है - 10th, 12th इसी वर्ष अच्छे अंको से पास करे
What is NIOS Admission for Students Who Has Failed in the CBSE Board Class 12 Examination?
NIOS is an open school course offered by the HRD ministry of Government of India. It is the second chance for the candidates who failed in the CBSE board's class 12 examination but wants another chance to complete their school education. The NIOS 12th percentage improvement has a good reputation. Students can take the NIOS on demand exam date 2020 12th facility to select the date of the examination. It is also possible to postpone the exam date as it is a open school.
Who Can Apply for On Demand Exam in NIOS? (Eligibility Criteria)
 To be considered as eligible the candidate needs to fulfil the following criteria,
The candidate needs to have the class 10 passing certificate and result of the same class.

The candidate needs to be at least 15 years old to sit in the examination as of 2021.
How to Take Admission NIOS Fail Student Admission?
Admission can be taken in this course by following the path mentioned below,
A candidate needs to visit the official website for the online registration process for the class 12 students who failed in the higher secondary examination organised by CBSE.

Registration can be done after that with the help of a valid email ID and phone number. NIOS admission status can be checked with the registration ID and password. Along with that a candidate needs to fulfil all other necessary details required.

An OTP will be generated.

There after the candidate needs to upload all the scanned copies of documents like Photo ID, Photographs and other documents.

After that the candidate needs to pay the admission fee online.
Take the Help of NIOS Admission for 12th Fail Candidates at Open Study Centre
Don't get depressed. There is no need to take a drop year. Just take admission in the courses Open Study Centre by paying NIOS admission fees. NIOS is a open school that operate under HRD ministry of government of India and helps candidates who somehow failed to pass the CBSE class 12 board examination. Take this second chance and move to a better future which is waiting for you after the completion of the higher secondary education. Visit our official website https://www.openstudy.co.in/ or dial up +91-9931193721 to get in touch with us.
NIOS या कोई अन्य बोर्ड एग्जाम में फेल हुए छात्रों के लिए पास होने का सुनहरा अवसर
Failed Students क्या करें ?
किसी भी मान्यता प्राप्त बोर्ड जैसे (BSEB, CBSE, NIOS) के फेल विद्यार्थी अपने दो विषयो का अंक BBOSE या NIOS बोर्ड में ट्रांसफर (T.O.C) कर कोई भी 3 विषयो का एग्जाम देकर विषयो का एग्जाम देकर 2 महीने में पास करने का मौका प्राप्त कर सकते है।