NIOS Admission 2022 For Class 10th / 12th (Open School Admission)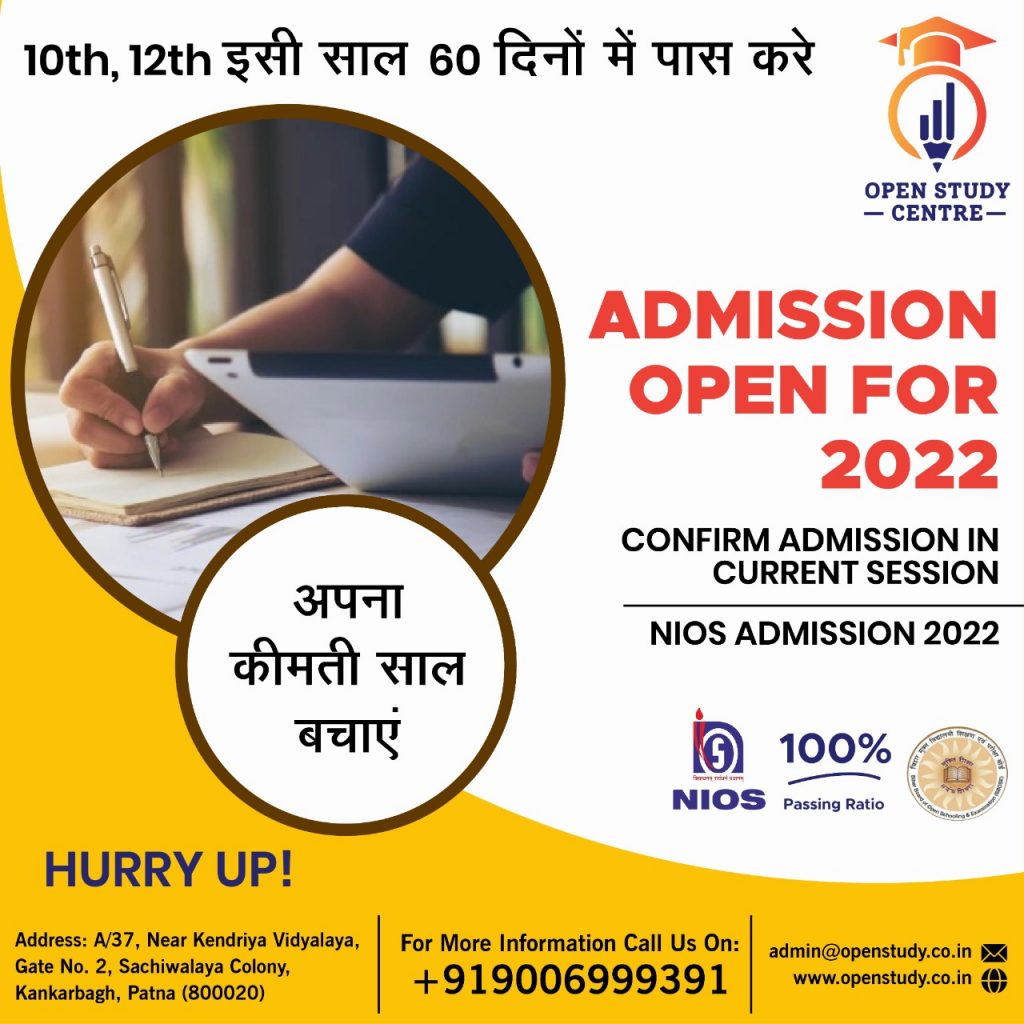 NIOS Online Admission 2022-2023 – A Comprehensive Guide
Take NIOS Online Admission 2022 for Block 1, Block 2, On-Demand 2022, and April 2022 Examination session to clear your 10th standard and 12th standard but if you have any query in mind, Contact us for help. If you have a secondary education certificate, you are eligible to give exams for senior secondary (class xii) exams and if you have a basic education certificate, you can give examinations for class x. The NIOS admission is still going on for On-Demand and regular for Block I Admission April – 2022 session. The last date of Block – 2 Admission for October is over. The exams are conducted two times during the year – the first (For BLOCK I) in April and the second (For BLOCK II) during October.
Students have the freedom to opt for the exam session whether in April – May or in October – November. The result is declared after 45 – 50 days of the examination. NCERT solutions along with the NCERT Books are also given to free download.
NIOS Online Admission 2022
| | |
| --- | --- |
| NIOS: | Online Admission |
| Block 1 & 2 | April & October |
| Last Date | September 15 & March 15 |
NIOS Admission for BLOCK I is done in April and for Block, II is done in October. NIOS Online Admission goes on through the year. The last date for block 1 (April exams) admission is September 15 and the last date of block 2 (October Exams) admission is March 15. Admission for On-Demand Examination can be taken at the beginning of each Months.
10th, 12th फेल विद्यार्थी निराश ना हो, अपना साल बचाए।
NIOS / BBOSE के फार्म भरे जा रहे है - 10th, 12th इसी वर्ष अच्छे अंको से पास करे
NIOS Online Admission 2022-2023 – A Comprehensive Guide
We are explaining everything about the NIOS online admission for the 2022-2023 session here as the block – II admission is already over but you can take admission through on demand exam nios 2022 process. We will discuss the advantages and benefits of studying from National Institute of Open Schooling. How anyone can take admission in NIOS (open school) and keep on their education. We have seen many candidates dropped their exams due to some issues in their life.
Some had left their studies due to age factor while some left because of time constraints. Here the NIOS plays the major role. This is the only board in India which gives full flexibility for learning. Students from any region and any circumstances can now continue their education from this board. Even NCERT Books are very helpful for NIOS Study. If you have still any doubt, please visit to Discussion Forum to clear it.
How To Get NIOS Admission In 2022-2023
NIOS develop the need based academic and vocational education programmes up to pre – degree level. If students are not able to give exam of all subjects at once, they can Opt NIOS which provides liberty to give exam two times in a year selecting only few subjects not all course. In this way a learner can give exams of all subjects one by one. The main objective of NIOS is to maintain the quality of education for Open and Distance learning Programmes and making it powerful through research and development activities. NIOS is providing open schooling at national as well as global level and sharing resources and study material. Just like CBSE (Central board of Secondary Education), CISCE (Council for the Indian School Certificate Examinations) and other boards.
The value of NIOS passed candidate is complete equivalent to these boards (India and Abroad). NIOS has multichannel delivery modes for transaction to select courses and programs. NIOS also come under Ministry of Human Resource Development of India. It also provides a technical as well as financial support to State Government for setting/Scaling up of SOS (State Open Schools)
how can i pass the nios exam, is nios exam difficult, how to pass nios exam, what should students do to perform better in nios examination, nios is easy or hard, nios passing marks for 12th , nios passing marks for 10th, nios pass percentage, how to score good marks in nios exam, nios coaching classes for class 12, nios coaching classes for class 10, best nios coaching institute Patna, top nios coaching in bihar, nios admission for better future, online nios coaching, nios online coaching,best nios classes online, open study nios online classes,open study, open study centre, NIOS Admission 2022,  NIOS Admission Last Date, NIOS Admission Stream 1, NIOS Exam Latest Update,  NIOS Admission 2022 new update, NIOS Admission new admission, Admission NIOS, NIOS Admission 2022, NIOS Admission in Patna, NIOS Admission Bihar, 
NIOS UPDATE
NIOS या कोई अन्य बोर्ड एग्जाम में फेल हुए छात्रों के लिए पास होने का सुनहरा अवसर
Failed Students क्या करें ?
किसी भी मान्यता प्राप्त बोर्ड जैसे (BSEB, CBSE, NIOS) के फेल विद्यार्थी अपने दो विषयो का अंक BBOSE या NIOS बोर्ड में ट्रांसफर (T.O.C) कर कोई भी 3 विषयो का एग्जाम देकर विषयो का एग्जाम देकर 2 महीने में पास करने का मौका प्राप्त कर सकते है।