How to Save Your Year if Failed in Class 12 Board Exam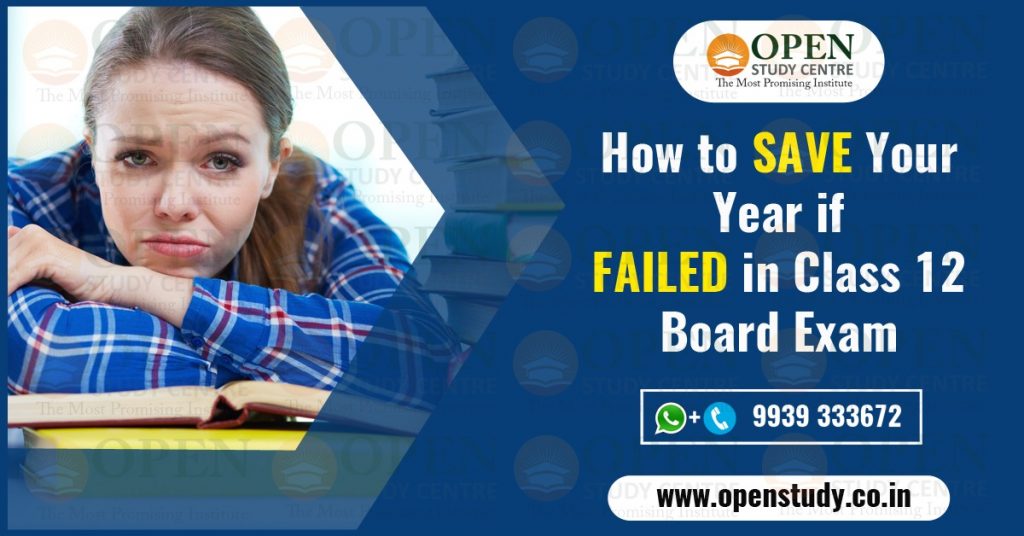 How to Save Your Year if Failed in Class 12 Board Exam
Failing in Class 12 is nothing too bad or nothing to feel guilty about! While at first you may be frustrated and feel humiliated but eventually the facts will settle in and you should start looking for alternative ways to pass the examination without losing a year. Life is all about second chances. You can take NIOS online admission and it will give you another chance that you are looking for to prove yourself. All you have to do is work hard and be patient. NIOS, an open school which is established by the HRD ministry of Government of India helps students who fail in the higher secondary examination organised by CBSE. As the last date of admission is closing in, look for NIOS admission for 12th class last date to book a seat in the NIOS exam.
 Why Wasting a Year is Not a Good Option?
After failing in one or more than one subject in class 12, if a candidate decided to take a gap year it may damage his or her confidence more and more with every passing day. Moreover the candidate will start doubting the own ability and that is not good for the morale of the candidate. It will also increase the fear of the candidate building around the CBSE board class 12 examination. A gap year is a complete waste when there are facilities like NIOS fail student admission. This will offer an aspirant to sit in the examination once again in the same year from an open school.
What is NIOS?
NIOS is a government undertaking open school that offers NIOS for 12th failed students 2022.  If you decide to take the NIOS examination you need to worry about failing. After a candidate fails in the NIOS exam, then he can sit in another examination by paying the NIOS admission fees. NIOS will eventually help the student to improve the overall result of a candidate. One of the most important things that a candidate needs to have in board examination is the overall percentage. NIOS 12th percentage improvement does exactly that.
10th, 12th फेल विद्यार्थी निराश ना हो, अपना साल बचाए।
NIOS / BBOSE के फार्म भरे जा रहे है - 10th, 12th इसी वर्ष अच्छे अंको से पास करे
How NIOS Can Help a Candidate to Get through the Class 12 Examination?
A candidate needs to pass the class 12 board examination to move forward in his or her career. Take admission before NIOS admission last date 2022–23. No matter how many subjects you fail in the CBSE class 12 board examination, NIOS will give all the enrolled candidates to sit in the examination. After registering yourself, at any point of time a candidate can check NIOS admission status. Both theoretical and practical examinations are organised by NIOS.
How to Apply in NIOS and Not to Waste a Year?
A candidate needs to apply for the class 12 examination at NIOS via online. To apply for the NIOS exam, an aspirant needs to visit the official website of NIOS. Then he or she needs to open the new registration window. The registration process can be completed by filling all the necessary details. Along with this information a candidate also needs to submit the scanned copies of documents like photo ID and class 10 mark sheet and certificate. 
Contact Open Study Centre For NIOS For 12th Failed Students 2022
A candidate will receive the admit card before the day of the examination. The candidate can avail the NIOS on demand exam date 2022 12th  facility to select an examination date according to his or her will and preference. The examination date can also be shifted to another date with the NIOS on demand exam postponed facility. In case a candidate is unable to sit in the examination on the chosen day, he or she needs to inform the NIOS authority about that. Only then a candidate can opt for the postponement of the exam.
We, Open Study Centre (https://www.openstudy.co.in/) will offer you with complete assistance regarding your NIOS examination. Reach out to us at +91-9931193721 for knowing all the necessary information for your successful enrollment.
NIOS या कोई अन्य बोर्ड एग्जाम में फेल हुए छात्रों के लिए पास होने का सुनहरा अवसर
Failed Students क्या करें ?
किसी भी मान्यता प्राप्त बोर्ड जैसे (BSEB, CBSE, NIOS) के फेल विद्यार्थी अपने दो विषयो का अंक BBOSE या NIOS बोर्ड में ट्रांसफर (T.O.C) कर कोई भी 3 विषयो का एग्जाम देकर विषयो का एग्जाम देकर 2 महीने में पास करने का मौका प्राप्त कर सकते है।