Bihar Open School BBOSE Admission in Chapra 2021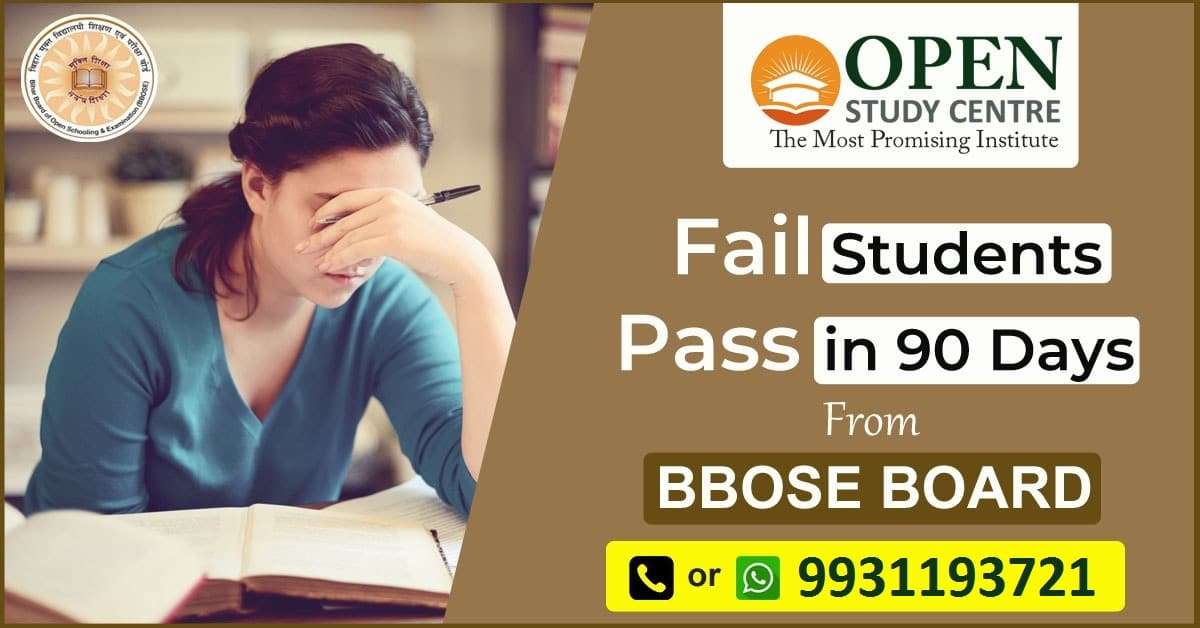 Bihar Open School BBOSE Admission in Chapra
Do you live in Bihar? Then this may be for you. If you want to pass class 10th or class 12th exams this year, join our BBOSE study centre in Chapra.
Many students study for long hours but still could not pass or score good marks. You may be tired of giving exams for years. Now even your friends and relatives make fun of you. Well, not anymore. Just give it one more try with us, and we promise you will pass with flying colours. Also, if you want to score good marks, it is possible this time. 
All we need is 3-4 hours daily. We guarantee you will pass with better marks this time.
Let us guide you through the whole process of Bihar open school admission in 2020-21. 
BBOSE Admission for Failed Students
फॉर्म भरे जा रहे है – NIOS या कोई अन्य बोर्ड एग्जाम में फेल हुए छात्रों के लिए पास होने का सुनहरा अवसर
Most students give up quickly after they could not find a solution for Bihar open school admission in Chapra? Do not lose your heart. BBOSE offers both online and offline registration process for students. Visit the official BBOSE website to apply for the open school admission in 2020. Just fill in your details and register your application. You will get a user ID and password for your registration. Save them for your future needs.
If you still do not understand how to apply for BBOSE Chapra admission, then call and speak to our BBOSE admission consultancy in Chapra. Our staff will take care of all your admission procedure for free. We would love to help you and guide you through the complete process. 
BBOSE Chapra Study Centre
Most students want to go out of Chapra to prepare for the exams. And they are right as there are not many suitable coaching classes for BBOSE exam preparation. However, take a step back and think again.
Come, join the right study centre for BBOSE class 10 and class 12 exams.
This time, we are here with a robust team of teachers and mentors to guide you all over the year. Our members will give you exclusive insights with practical tips and tricks to score good marks in the upcoming examination.
Most of the students fail to complete their education for various reasons. Now you need to apply through BBOSE and finish your exams this time. BBOSE is an open schooling platform for leftover students.
 The Bihar Board conducts an admission procedure to offer admissions for the eligible candidates. The Bihar Board takes an entrance test two times a year for the appearing candidates for Class 10th and Class 12th exams.
FAILED in 9th or 11th?
Open Study Centre helps you save a year, and gets you direct admission in 10th & 12th through NIOS
BBOSE has released the application form for admissions 2020. Sit at your home and fill up the online form to apply for the admissions. Students who got good marks in the entrance exam are allowed to take admission in the school or colleges. 
The students must be at least 14 years of age to apply for the class 10 admissions. However, you must have a class 9th passing certificate to apply for the class 10th exams.  
Complete your Class 12th exams to carry further studies. Every college requires your class 12th certificate to give admissions. The minimum age should be 15 years to apply for class 12 examinations. And, you must have 50% marks in the class 10th exams.  
The admission procedure is the same for the class 12th admissions. Visit the official website to download the application form and register your application. However, you must score well in the entrance exam to confirm your admission.
The BBOSE conducts exams twice a year in June and December. Check online regularly to know the correct exam date and timing.
We are a premium group of experienced teachers and professionals from all over India. Our coaching classes and study centres spread across five towns and cities in Bihar with years of education service. 
The Open Study Centre is the leading coaching centre for BBOSE exam preparation. Our main motto is to help students pass their exams and go big in life. The right counselling by our experts plays a big role for the students in making the right choices. With our 30+ years of teaching service, we have built a series of education platforms for the students; admission services, study center, and coaching classes across Bihar.
The BBOSE coaching institute in Chapra is growing with its record success over time. We have several study centres in Bihar which have given 99% of results each time. Check out the list of our unique resources:
Expert Faculty and mentors to guide students

Personalized study materials with simplified concepts for better preparation 

Reasonable Fees with excellent facilities

A weekly one-to-one session for each student

Extra classes for weak students

Special Mock tests to evaluate student performance

Friendly teachers to understand student's problems

Small class-size for better efficiency

Useful tips and tricks to add value

Doubt clearing sessions for all

Personal counselling session to boost self-motivation

Record growth story
Many students who failed over and over again come to us. Even, few of them choose not to attend any more exams. Then why are we here? We guide them and help them enroll in the exams once again. 
With our superior faculty and friendly teaching service, most of them pass their exams. Many of them now are either in government jobs or reputed organizations. 
The growth story of our students is enough to tell you about our past reputation.
You must be tired of searching for – admission consultants near me in Chapra for BBOSE. Join the BBOSE study centre in Chapra today to give your life a new meaning. We assure you that we will work together to make you pass your exams whether you are appearing for class 10 or class 12 exams this time. 
Plus, we provide extra study materials and expert teaching faculty at our coaching. Apply now to take a free demo session with us. Your parents can visit our main study centre at Patna for better communication at our Main office. 
Want to Discuss about BBOSE Admission?
10th, 12th में फेल / कम अंक वाले छात्र 60 दिन में अच्छे अंक से पास करे।
NIOS या कोई अन्य बोर्ड एग्जाम में फेल हुए छात्रों के लिए पास होने का सुनहरा अवसर
BBOSE Admission Details 2021
BBOSE Admission Form 2021
BBOSE Class 10th Sample Papers 2021
BBOSE Class 12th Sample Papers 2021
10th, 12th फेल विद्यार्थी निराश ना हो, अपना साल बचाए।
BBOSE के फार्म भरे जा रहे है - 10th, 12th इसी वर्ष अच्छे अंको से पास करे