Best BBOSE Study Centre in Patna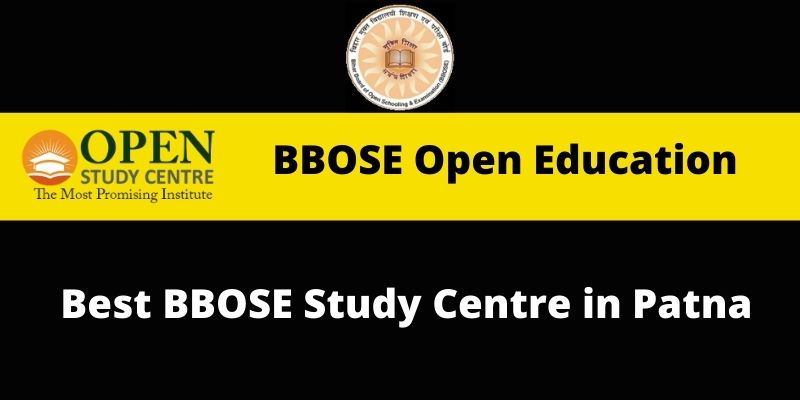 BBOSE Study Centre for BBOSE Admission Class 10th 2021
I am sure, you would be looking for the best  . That's why we are here. Together, let's find out the best prospects for your coaching classes to help you pass your exams with flying colours.
Whether you failed in past exams or unfortunately left your former school, passing your BBOSE class 10th & BBOSE class 12th exams is super easy. Join the Bihar Board of open schooling exams to gain class 10th & class 12th board certificates.
Get a super friendly BBOSE Open Study Centre to pass your BBOSE exams with good marks this year.
Benefits of Joining BBOSE Coaching in Patna
The benefits of joining BBOSE coaching Patna are plenty. Here are a few of the assured benefits of your open school learning.
Handles Your Lack of Routine:
To pass your class 10th and class 12th exams, students need to focus for a month or two before exams.
Most students lack the discipline required to study even a month before exams. Yes, all you need is a few months to prepare the very best for your upcoming BBOSE class 10th & class 12th exams.
And to achieve that, you need a friendly coaching guide for your BBOSE exams 2021.
Offers Personalised Coaching:
Look for a small batch that offers easy learning for tough concepts.
Join the best   to gain personalised teaching. Ask for a small batch in your coaching centre and make sure to prepare the best for your BBOSE exam 2021.
Joining the Open Study Centre will give you extra time to ask doubts and quickly understand concepts.
Just Listen to Your Teachers
Listening to teachers in the class can help you a lot to learn and score well in BBOSE exams.
No need to study for hours. The Open Study faculty prepares everything and delivers the easiest way of learning to students. All you need is to sit and listen to our teachers.
Passing your BBOSE class 12th & class 10th exams guaranteed. Just stay tuned with us to enjoy easy classes.
Short Notes For Fast Learning
No need to sit and study for long hours. Get the short notes and sample papers with Open Study to pass your BBOSE exams easily.
Not a single coaching centre in Patna gives exclusive BBOSE notes for students. So, get ready to study notes and win the challenge to clear your Board exams this year.
With Open Study, even the failed students have got good passing marks in their class 10th and class 12th exams.
Takes Care of Admission Process
Choose a BBOSE admission Centre in Patna that takes care of all your admission requirements.
Yes, you heard that right. Open Study is the only coaching centre that gives all-round BBOSE support for students. Book a call with Open Study and learn how to take admission to clear your board exams in 2021.
Why Choose an Open Study Centre?
Every other   claim to be the best but rarely do they walk the talk. However, not every study centre is like that.
The Open Study Centre in Patna is a top choice with a strong promise of board passing results for BBOSE students.
Easy BBOSE Admission Process

Improves Board Exam Performance

Offers Special study notes to save time and energy

Easy And Fun Learning

Point-to-point Q&A session to prepare you for the exams.

BBOSE Exam Admit Card Delivery
Not only do they ensure the best coaching services but also offer 360 BBOSE resources. From the easy BBOSE admission process to effortless registration and counselling, they even deliver course materials and teaching for class 10th and class 12th.
Open Study – Your Host & Dost For BBOSE Exams
Still not sure how to crack your BBOSE Board exams? Relax, we've got you covered. Just select the course you want to enrol yourself in and let Open Study take care of the rest.
With the best  , you can clear your exams with no effort at all. Come to us and we'll give you the best study center of bbose in Patna.
10th, 12th फेल विद्यार्थी निराश ना हो, अपना साल बचाए।
NIOS / BBOSE के फार्म भरे जा रहे है - 10th, 12th इसी वर्ष अच्छे अंको से पास करे
FAQs
 Is BBOSE valid for the government? Exams?
 A: Yes, BBOSE is a Bihar govt. affiliated Board of Open Schooling that is valid for all govt. and private exams.
Is it easy to pass BBOSE exams?
 A: Passing BBOSE Class 10th exam & BBOSE Class 12th exam are super easy. All you need is a helping hand to prepare for exams and pass your board exams with good marks. 
Can the failed students give class 10th & class 12th exams?
A: Absolutely, all students who failed in their previous school exams can apply for BBOSE class 10th & class 12th exams. BBOSE is a great help for such students.
NIOS या कोई अन्य बोर्ड एग्जाम में फेल हुए छात्रों के लिए पास होने का सुनहरा अवसर
Failed Students क्या करें ?
किसी भी मान्यता प्राप्त बोर्ड जैसे (BSEB, CBSE, NIOS) के फेल विद्यार्थी अपने दो विषयो का अंक BBOSE या NIOS बोर्ड में ट्रांसफर (T.O.C) कर कोई भी 3 विषयो का एग्जाम देकर विषयो का एग्जाम देकर 2 महीने में पास करने का मौका प्राप्त कर सकते है।