BBOSE Study Centre in Nalanda 2021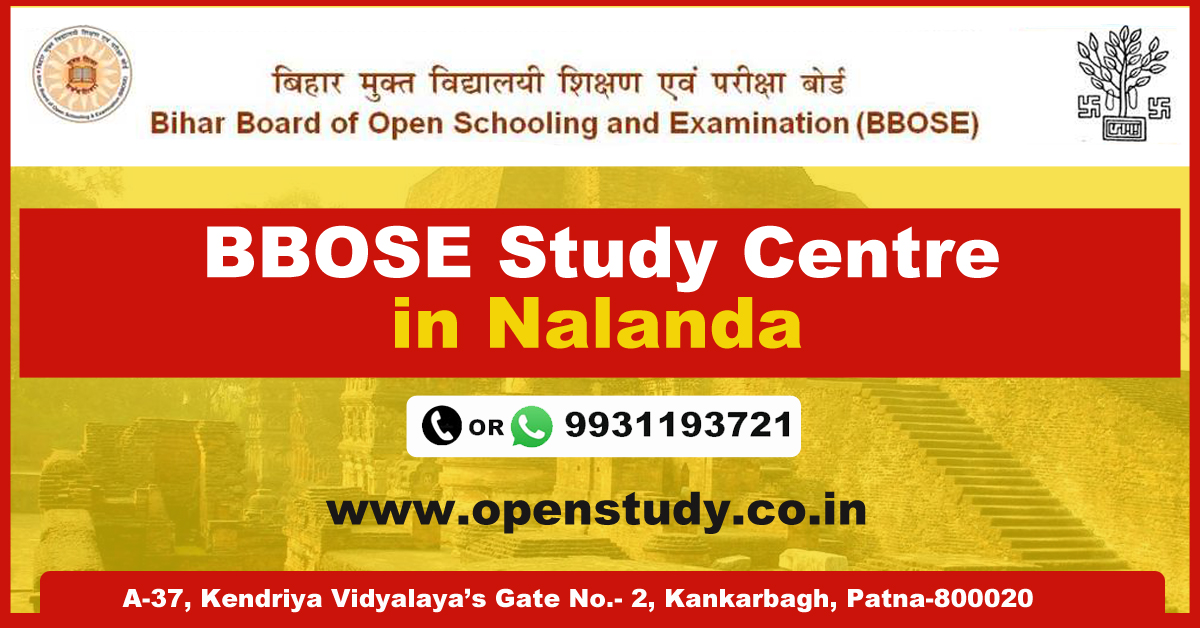 BBOSE Coaching Institute in Nalanda, Bihar
Who does not know the iconic city of Nalanda in Bihar? How could it be even possible to miss our presence in the historic town of Nalanda? Let us guide you further to join a leading BBOSE study centre in Nalanda that can educate and transform the lives of common students. Our institute is filled with bright students and expert teachers who will help you re-live the lost school life.
BBOSE Admission for Failed Students
फॉर्म भरे जा रहे है – NIOS या कोई अन्य बोर्ड एग्जाम में फेल हुए छात्रों के लिए पास होने का सुनहरा अवसर
BBOSE Nalanda Study Centre
Today, most students are enrolling for the open school courses so that they can carry out distance learning along with the parallel works they do in their daily life. BBOSE is one such independent platform recognized by the government of Bihar.
It offers distance education for all sections of society, Be it marginalized, or riverine population. BBOSE also offers fees discount under the RTE act passed by the Bihar govt.
BBOSE Eligibility Criteria
The Bihar Board of Open School has separate criteria for its Secondary (class 10) and higher Secondary (Class 12) courses. Here are the details for the aspiring BBOSE candidates.
Class 10 BBOSE Admission:
A student must be at least 14 years of age to apply for class 10 admission.

No maximum age limit. A person of any age can seek admission for BBOSE class 10 courses.

Class 8th certificate or self-declaration certificate
BBOSE Class 12 Admission:
The candidate must have a minimum age of 15 years before applying for the class 12 admissions.

BBOSE does not have any upper age limit. A person of any age can apply for class 12 admission.
Class 10th certificate
Required Documents for BBOSE Admission 2021
Check out the list of documents required for BBOSE courses. A student must have the below documents for seeking admission in secondary and senior secondary courses.
For Class 10 Students:
Legal ID Proof such as DL, Voter ID, Aadhaar card, Pan Card, Passport.

Original signature.

Valid DOB Proof.

Legal Address Proof.

Class 8th certificate or self-declaration document.

Caste Certificate.

Income Certificate.

6 copies of recent colour Photograph.
For Class 12 Students:
Valid ID Proof like Aadhaar card, DL, Voter ID, Pan card, Passport.

Valid Address proof.

Original signature.

Valid DOB proof.

Caste certificate.

Income Certificate.

Class 10th mark sheet or failed class 12th mark sheet.
6 copies of recent colour photograph.
FAILED in 9th or 11th?
Open Study Centre helps you save a year, and gets you direct admission in 10th & 12th through NIOS
BBOSE has its set fees for class 10 and class 12 courses. However, it varies for a different category. Let's check it out.
Class 10 Fees:
How to Apply for Bihar open School Admission 2021
BBOSE has an online and offline process to apply for admissions. Let's look at both the processes.
Online Application Process:
Visit the official BBOSE website, http://www.bbose.org/ to apply for admission.

Find the "New Registration" tab and log in using your e-mail and set the password.

Once you enter the login page, enter once again your username and password.

An Application Form will appear on the screen.

Fill in your personal and other details.

Recheck and proceed to pay the application fees using available payment modes.

Upload your documents and photograph and tap on Submit.
Offline Application Process:
Go to the BBOSE official website and find the Students section.

Look for an Admission bar and click on it.

Select Offline Admission.

Application Form will appear on the screen.

Fill in your application details and check them twice.

Get a printout of the application form.

Attach your documents and photographs with the form.

Also, tie a Demand Draft in favour of BBOSE.
Put them in an envelope and post it to the BBOSE office address.
Visit the BBOSE website. Go to the Students section and find the link for Exam Admit card. You will see a separate admit card for class 10 and class 12 exams. Click on the link and download it. You can also see it on your phone or computer.
Want to Discuss about BBOSE Admission?
10th, 12th में फेल / कम अंक वाले छात्र 60 दिन में अच्छे अंक से पास करे।
Look for the Exam Results link on the BBOSE website. The website shall have separate links for class 10 and class 12 exam results. Click on it and it will display your latest results on your phone. You can also download it or take a printout of it.
Open Study Centre is the foundation stone for the successful exam results of students. Our primary focus is to help those who could not complete their regular education course due to a lack of money, personal or family problems.
The mission of the BBOSE Nalanda study centre is to transform weak students into a bright one and make them exam-ready. From the past 18+ years, we have committed ourselves to the success of our students.
Many students leave their education just due to a lack of supportive teachers and positive guidance. Both of which we have worked upon to make sure every student who comes to us can complete their education with good marks. Our mission is to provide an individual support structure for every student.
Given are the resource list and added facilities you get with our BBOSE coaching institute in Nalanda:
Free Demo session.

Affordable fees that help each student get a teacher guide.

Experienced Faculty members to understand concepts simply.

Personal doubt session.

Online teaching facilities.

Question Banks and answers to practice regularly.

Special Batches for late-comers.

Regular tests to keep track on student performance.

Early completion of the syllabus to let students revise.

Light-filled and Airy rooms.
Are you still deciding whether or not to take admission? Do not waste your time anymore. Just contact our BBOSE admission consultancy in Nalanda to get your admission done at free-of-cost. Contact us today to reserve your seat with us.
NIOS या कोई अन्य बोर्ड एग्जाम में फेल हुए छात्रों के लिए पास होने का सुनहरा अवसर
BBOSE Admission Details 2021
BBOSE Admission Form 2021
BBOSE Class 10th Sample Papers 2021
BBOSE Class 12th Sample Papers 2021
10th, 12th फेल विद्यार्थी निराश ना हो, अपना साल बचाए।
BBOSE के फार्म भरे जा रहे है - 10th, 12th इसी वर्ष अच्छे अंको से पास करे