BBOSE Study Centre for BBOSE Admission Class 10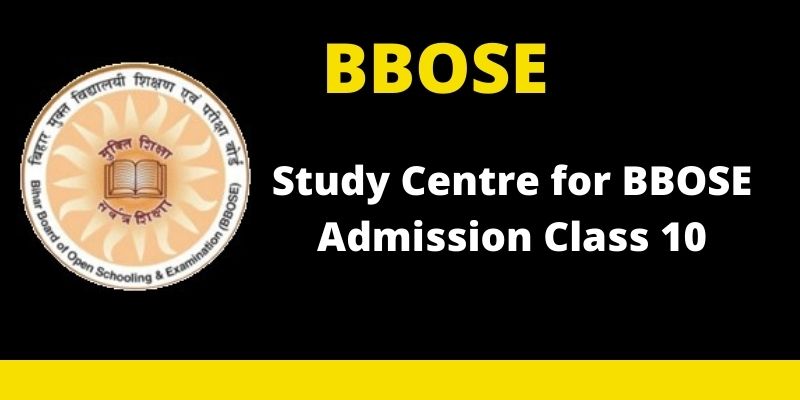 BBOSE Study Centre for BBOSE Admission Class 10th 2021
Education is the right of every person on this earth. Many students are not able to fulfil their dreams due to many reasons. Family issues and financial crises sometimes create a lot of hurdles. Children don`t get opportunities many times due to lack of awareness.
The open study centre is the NIOS and BBOSE affiliated coaching centre in Bihar. Many students find it difficult to pass the ICSE or even CBSE. At Open study centre, NIOS and BBOSE have a simple pattern for students to pass open schooling.
It is the best institute for students to give them opportunities to complete their unfinished education. Open study centre helps students find their future and choose what is best for them. Open study centre provides equal opportunities to all students and makes their life aimful.
KNOW MORE ABOUT BBOSE STUDY CENTRE FOR CLASS 10TH
Bihar education department organization founded Bihar board of open schooling and examination for better education. This is a registered institution by the government for distance learning programs.
BBOSE study centre admits you to open and distance learning. This board has great significance in Bihar as it is the root to install the National institute of open schooling.
BBOSE study centre in Patna provides the best quality of education. It focus on deprived social and economic sectors and to make their education better.
ELIGIBILITY FOR BBOSE ADMISSION IN CLASS 10TH
The minimum age required for BBOSE admission class 10 is 14 years. A person below this age is not eligible for this course.
There is no maximum age required for BBOSE Admission in Class Tenth.
Applicant should have cleared class 9th class from the primary school of Bihar.
DOCUMENTS REQUIRED FOR BBSOE ADMISSIONS 2021
Caste certificate
Identity proof like Voter ID or Adhaar card. A photocopy of applicants Identity proof is a must
Four passport size photos
Original mark sheet of class 10th
At the time of admission, the applicant should have a medical certificate which, again should be approved by the doctor.
HOW TO APPLY FOR BBOSE BIHAR OPEN SCHOOL ADMISSION FOR 10TH
You can take online and offline admission as well. FOR TAKING ONLINE ADMISSION: You are required to have an E-mail Id and a password with you for registering in BBOSE.
For the first time, you will need to register with BBOSE and create a new password for future login. You can register yourself by clicking on the button 'Click here for new registration'.
By clicking on this button, the BBOSE registration 2021 page will appear. It will ask you to enter your functional E-mail ID.
After this, it will ask you to enter and create a new password with a minimum of eight characters.
Then you can again go to the home page and log in using the same E-mail and password created.
Further, it will ask you to fill in the details of the subject you want to pursue, your name and your age.
After filing in the details, you can pay the fee through any online mode. You can pay with a credit card, Debit card, NET banking, using payment apps.
When you will be done with paying the fee, you will get a soft copy of the application form for BBSOE Matric Admission.
You will further need to send it with required documents and photographs.
FOR TAKING OFFLINE ADMISSION:
You need to visit the Official Bihar open School 10th Admission website
Click on the 'Admission' tab and choose the Offline admission form
A link to the application form will be provided, download the form
Fill in all the details asked for
Attach the application form with required documents and demand drafts.
Demand draft should be in the favor of the CEO of BBSOE, One of the R. 4000/- and another of Rs.1000/-
Send your documents to the address provided below: BBSOE Chanakya National Law University Campus, Nyay Nagar, Mithapur, Patna-800001
BBSOE Patna study centre provides you to choose the medium of instructions you find most suitable.
Hindi
English
Urdu
You can choose in which language you want to receive your question paper
The medium chosen by you will be the same to answer the question paper.
SUBJECTS OFFERED BY BBSOE STUDY CENTRE
English
Mathematics
Hindi
Science
Social science
Home science
Indian heritage and culture
Sanskrit
Physical education and yoga
Urdu
Bhojpuri
Bangla
Painting
Basic computer
Persian
Business study
Arabic
Maithili
10th, 12th फेल विद्यार्थी निराश ना हो, अपना साल बचाए।
NIOS / BBOSE के फार्म भरे जा रहे है - 10th, 12th इसी वर्ष अच्छे अंको से पास करे
FAQ ABOUT BBSOE
Is BBSOE a registered board in Bihar?
BBSOE is established under the societies act. It is founded by the organization of the Bihar Education Department.
Is BBSOE valid universally?
Yes, BBSOE is valid everywhere as it is the registered board in India.
Is BBSOE student eligible for IIT, JEE and NEET?
Yes, after clearing the 12th from BBSOE, you are eligible for all these exams.
NIOS या कोई अन्य बोर्ड एग्जाम में फेल हुए छात्रों के लिए पास होने का सुनहरा अवसर
Failed Students क्या करें ?
किसी भी मान्यता प्राप्त बोर्ड जैसे (BSEB, CBSE, NIOS) के फेल विद्यार्थी अपने दो विषयो का अंक BBOSE या NIOS बोर्ड में ट्रांसफर (T.O.C) कर कोई भी 3 विषयो का एग्जाम देकर विषयो का एग्जाम देकर 2 महीने में पास करने का मौका प्राप्त कर सकते है।