BBOSE admission center in Siwan 2021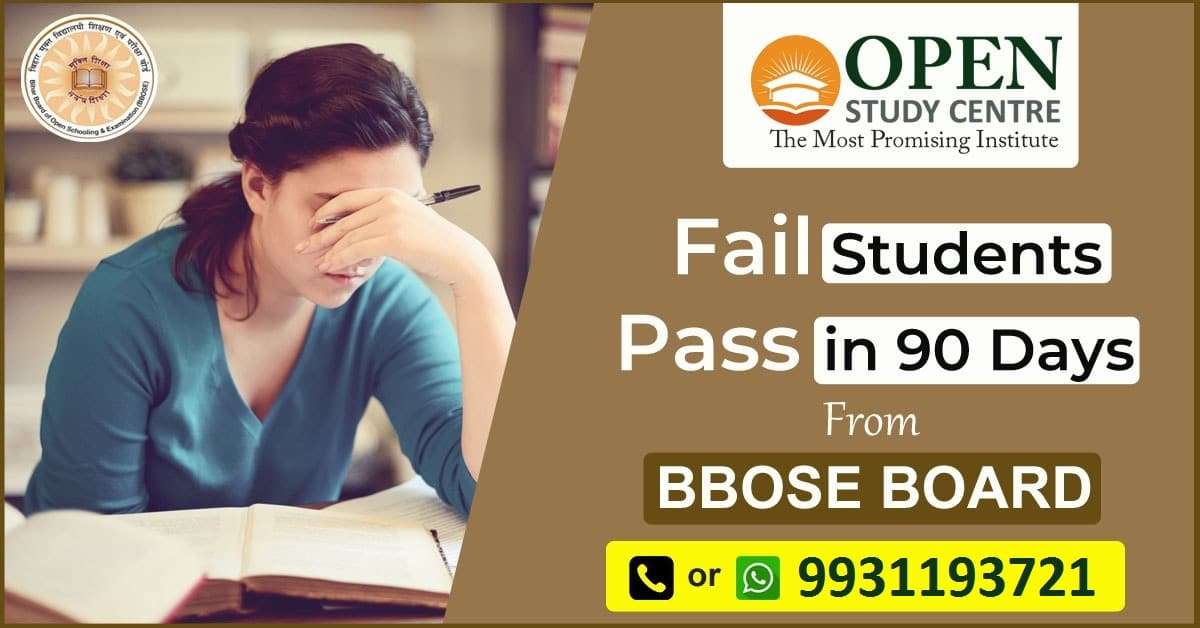 BBOSE Coaching Institute in Siwan, Bihar
BBOSE is an autonomous organization of the education department that was set up by the Bihar Government in 2011. It is also called as Bihar Open School Patna and falls under the Government of the Indian education department. It is similar to NIOS as it is set up to facilitate open and distance learning. Apart from the regular courses, a candidate can enroll in vocational skills and training programs. It offers various life enrichment programs to the students.
Courses offered by BBOSE admission 2021
Secondary (BBOSE class 10th examination)
Senior Secondary (BBOSE class 12th examination)
Medium of Instructions for admission in admission in open school bihar
English Medium

Hindi Medium

Urdu Medium
Eligibility Criteria:
For BBOSE 10th admission – The student should have completed 14 years of age.
For  BBOSE 12th admission – The student must have cleared class 10th from a recognized board and should be of a minimum age of 16 years.
Note- Students who have already passed class 10th and 12th exams and want to improve their marks, they also have a chance. Through the BBOSE board, these students are also eligible for this course.
Documents required
For Class 10th BBOSE admission
Date of birth certificate

Valid Proof of Identity like Aadhar Card. The student has a Requirement of Photocopy of Aadhar Card.

4 passport size photographs (colored). The photographs should be recent.

Caste certificate for SC/ST/OBC candidates.
For Class 12th BBOSE admission
Identity proof like Aadhar Card, passport or ration card.

Birth certificate for proof of date of birth

Address proof i.e. Aadhaar card/water bill/electricity bill/voter ID/ration card

Recent passport size color photograph

class 10th mark sheet to apply for BBOSE 12th exams 2020.

Caste certificate for SC/ST/OBC candidates.
Subjects offered by Bihar open school admission class 10th
Hindi (201)
English (202)
Bhojpuri (205)
SCIENCE (216)
MATHEMATICS (215)
SOCIAL SCIENCE (217)
SANSKRIT (204)
Physical Education (218)
Business Studies (219)
Home Science (220)
Basic Computers (221)
Indian heritage and culture (222)
Painting (223)
Urdu
Bhojpuri
Bangla
Persian
Maithili
Arabic
Subjects offered by Bihar open school admission class 12th
Hindi(301)
English(302)
Sanskrit(302)
Bhojpuri(305)
Mathematics(310)
Physics(311)
Chemistry(312)
Biology(313)
History(314)
Geography(315)
Political Science(316)
Economics(317)
Business Studies(318)
Accountancy(319)
Home Science(320)
Psychology(321)
Computer Science(322)
Sociology(323)
Philosophy(325)
Arts(326)
Music(327)
Physical Education (328)
Urdu
Bhojpuri
Bangla
Maghi
Maithili
Arabic
BBOSE Admission for Failed Students
फॉर्म भरे जा रहे है – NIOS या कोई अन्य बोर्ड एग्जाम में फेल हुए छात्रों के लिए पास होने का सुनहरा अवसर
Fee Structure for open school in Bihar for class 10th admission
Fee Structure for open school in Bihar for class 12th admission
FAILED in 9th or 11th?
Open Study Centre helps you save a year, and gets you direct admission in 10th & 12th through NIOS
How to register for open school admission 2020 Bihar?
Visit the official website of the BBOSE that is bbose.org. Bihar Board of Open Schooling will release bbose 10th admission and bbose 12th admission hall ticket through its website. One can download the admit card from the home page of the website. BBOSE exam admit cards will be released separately for theory and practical exams. Before appearing for the exams it is must that each and every student need to carry the admit card on the day of examination. For the June session, the BBOSE board releases the admit card separately in the month of June and for the December session.
How to check the BBOSE admission result in Siwan?
Visit the official website of the BBOSE that is bbose.org and log on to the official website to check the result for bihar open school online admission. Then Find the link on the home page stating BBOSE class 10th/12th result. Then click on the desired link. After that enter the credentials which are roll number, date of birth, examination type(secondary or senior secondary), examination center code. Then click on the Submit button. The BBOSE Result will appear on your screen, you can download the result and save it for later purpose.
The students who are interested in getting admission should the Registration form which could be downloaded online or collected offline from the BBOSE admission center, along with the required documentation before the last date which is prescribed by BBOSE Patna official website.
Want to Discuss about BBOSE Admission?
10th, 12th में फेल / कम अंक वाले छात्र 60 दिन में अच्छे अंक से पास करे।
Yes, students from the Bihar Board of Open Schooling and Examination (BBOSE) are eligible to write the CLAT exam and all law colleges accept the same. The student will have to clear the examination and he will be able to get the admission.
BBOSE ( Bihar Board Open School Examination ) is a recognized board and candidates passed from a recognized board are eligible to appear in the entrance test.These are equivalent to other formal boards like CBSE and ICSE. The students who pass from BBOSE can apply for any exam
Yes, BBOSE is a recognized board and candidates passed 12th with the board are eligible for appearing in the various examinations. BBOSE is set up on similar lines to NIOS and hence students of BBOSE can sit for JEE Mains exam and any other such exam.
We at Open Study Centre provides the best education facility for BBOSE in Siwan, Bihar. We have offices in Siwan and all over Bihar. Our aim is to guide and motivate students to achieve the best of them so that they can easily qualify and excel in all the examinations with good grades. Cracking BBOSE board admission can be tough and challenging if proper guidance is not received by a student. Hence a BBOSE study center like Open Study Centre in Siwan can help a student crack BBOSE admission 2020. If you are looking to enroll in BBOSE coaching institute then Open Study Centre in Siwan is a suitable platform for you. We are focused on coaching students who were unable to perform well in the regular schooling system due to several reasons.
We have a dedicated faculty team who helps the students by being a BBOSE admission consultant. We are like a consultant to all the students about the procedure of  admission in Bihar Open School. We provide exclusive BBOSE coaching classes for the class of 10th or 12th with experienced teachers. Our journey as an education consultant for BBOSE in Siwan has been quite successful as we have thousands of students who although failed at first attempt but under our guidance have made a mark in the BBOSE exams. Open Study Centre. We have trained many students for BBOSE board admission and have gained vast experience and knowledge of the online admission for BBOSE as well as of the offline mode. We offer a friendly and compatible environment for study so that the student doesn't only clearly understand the subject but will fall in love with the subject.
NIOS या कोई अन्य बोर्ड एग्जाम में फेल हुए छात्रों के लिए पास होने का सुनहरा अवसर
BBOSE Admission Details 2021
BBOSE Admission Form 2021
BBOSE Class 10th Sample Papers 2021
BBOSE Class 12th Sample Papers 2021
10th, 12th फेल विद्यार्थी निराश ना हो, अपना साल बचाए।
BBOSE के फार्म भरे जा रहे है - 10th, 12th इसी वर्ष अच्छे अंको से पास करे